TALKING POINT on IBI
Toys & CE Certification
For the outsider there may be no difference between toys and boats.Many people may end up thinking that boats and yachts of any size are toys for rich people!
We in the industry certainly have a biased view on this and can even refer to different EU directives for clarification and substantiation.
On the one hand, there is the Toy Directive 2009/48/EC with its many amendments and, on the other, the Recreational Craft Directive 2013-53-EU. Their scopes of application are clearly defined. Just think of a kind of inflatable banana, a large tyre or a thing similar to an air mattress, which is pulled behind a boat over deep water at gliding speed and with several children and adults on board. Is there a toy or a boat being towed?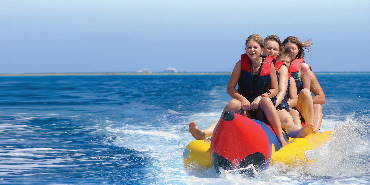 The Toys Directive defines in Art. 3.19 "aquatic toy" as a toy intended for use in shallow water which is capable of carrying or supporting a child on the water. Furthermore, children are defined as persons under 14 years of age. The case is therefore quite clear: No toy!

Then it must be a boat, because the Recreational Craft Directive defines in Art. 3(2) "recreational craft" as any watercraft of any type, …..., intended for sports and leisure purposes of hull length from 2.5m to 24m, regardless of the means of propulsion. The above-mentioned products are therefore clearly boats.
Or are they not?
I ask myself, why do most of these products not carry a CE mark according to the Recreational Craft Directive?
© Photo IBI: banana ride iStock-664234974