TALKING POINT on IBI
Do EN/ISO standards for "small craft" reflect the today's outboard engine
On most sailing or motor boats, outboard engines, whether powered by petrol, diesel or electricity, are indispensable. Both the Recreational Craft Directive and the ISO TC 188 standards, applied in the background, certainly take this perfectly into account - within the typical parameters.
However, this is not happening to the current extent. Meanwhile we see outboards on the market up to about 470 kW (≈ 630 hp) with a respectable weight of about 500 kg, per piece!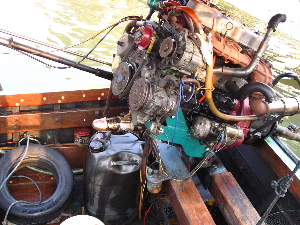 For the stability and buoyancy assessment and categorisation of powerboats over 6m hull length (EN/ISO 12217-1) all individual weights of a craft must be added together. This of course includes the main engine(s). The engine weights, in turn, can be taken from a table in the standard, in which they are listed according to engine performance. This table indicates in its bottom-line the weight of an engine with a power of "164.2kW and more" with 312kg. If the boat manufacturer sticks to this table, he is walking into a bad trap, because his engine may be considerably heavier. Therefore, it is better not to stick to the standard for the above-mentioned top models, but to use the actual weights.
EN/ISO 12215-5 is used to determine the design pressures and stresses as well as scantlings of monohulls. This standard has among others an "informative appendix" for calculating the loads on the transom or engine mount of a boat. In the ISO world, however, "informative" means that the part so designated is not necessarily binding. This makes the expert wonder. He is even more surprised if he has to find out that a formula for determining the factor cOB given there contains some typing errors!
So extreme caution is required here! It seems to me that the experience of the manufacturer, after agreement with the certifier, will lead to a better solution until the standard is corrected.
[Photo:] Taken from https://search.creativecommons.org/ for free commercial purpose