IMCI FINN TROPHY RURSEE 2019
IMCI again main sponsor
Once again IMCI was the main sponsor of this year's IMCI Finn Trophy at the Rursee, June 15-16, 2019.
Ten Finns started at the Rursee with a total of 41 boats of the classes Finn, Pirat and Dyas under the direction of Olaf Just.
The Finn sailors found best wind conditions on the Rursee, with Saturday 4-6 Bft and a bit calmer 2-4 Bft on Sunday. In addition, there was bright sunshine paired with light clouds - emperor's weather at the Rursee! After an exciting competition Jochen Dauber from ABC took the lead after four races. Burkard Werner arrived from the deep south and for the first time at the Rursee secured second place.
A successful barbecue with a disco in the clubhouse rounded off the first sailing day.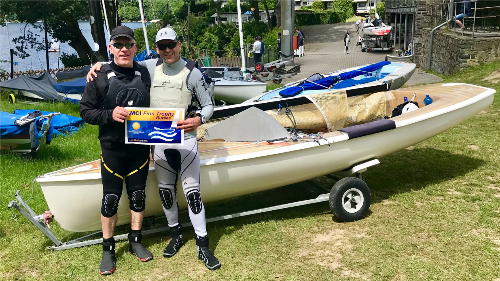 The winners of the IMCI Finn Trophy 2019: Burkard Werner (2nd place) and Jochen Dauber (1st place).