IMCI Thailand Team among the best
Inclusion Sailing World Championships in Rostock 2022
© Photo Peter Jacops: IMCI Thailand Team Paul Merry, left (Crew) und Tanat Upatising, right (Skipper)
For the first time Thailand was represented on the international inclusion sailing stage.
IMCI Thailand Team Tanat Upatising (skipper) and Paul Merry (crew) were at the start of the 2022 Inclusion Sailing World Championships, held in Rostock, Germany, from August 24-28. They competed under the banner of Disabled Sailing Thailand as "IMCI Thailand" against a world-class fleet of 25 teams from six countries in an 8-race series over 10 days. The third edition of the World Sailing Inclusion Championship was held in partnership with World Sailing.
For the dynamic duo, who trained at the Royal Phuket Marina in Phuket, this was their first international competition, and the first time Thailand was represented at an inclusive sailing championship in the world.
IMCI Thailand sailed the S/V14 sailboat, with a crew of two - a non-disabled sailor and a para-sailor.
The development of an affordable boat for para-sailors around the world was launched in 2015. The Simonis Voogd Design office from Cape Town (RSA) could be won for the design of this charity project. Together with the help of a friend and former Paralympic sailor Russel Vollmer, a new boat was created that looks competitive, affordable and modern. Far East Boats, based in Shanghai, CHN, joined the group and offered to build the boats at cost. When CE certification was due at the end of the production process, IMCI took on the task for a token amount to support the project.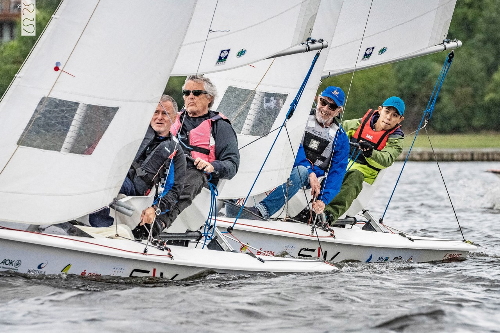 © Photo Lars Wehrmann: IMCI Thailand Inclusion World Championship for Sailing 2022
The IMCI Thailand team sailed in a fleet of top international talent and finished in an excellent eighth place overall.
The gap between fifth and eighth place was just 2.56 points, highlighting how close the competition was. Full results can be found here:
"As this was our first time competing and we were up against such a high level of sailing talent, we are pleased with the result. We haven't had many opportunities to compete against others in Phuket, but we are finding that Thai people with disabilities are more interested in sailing and we want to continue to grow our Disabled Sailing Thailand team in Phuket," said IMCI Thailand skipper Tanat Upatising.
Ulrich Heinemann, CEO of IMCI, said, "It is a pleasure to support this charity project for para-sailors and IMCI Thailand. We are happy about the extremely sportive performance and congratulate the whole team!".
For more information about the World Championship, please visit: www.inclusionworlds-sailing.com/en/
For information about Disabled Sailing Thailand please visit: www.disabledsailingthailand.org and for information about the boat please visit www.sv14.org
"…we CErtify the best"